What's the deal with Nickelback?
Seems every time lately when I've been channel-surfing, I end up catching videos by that godawful rawk band Nickelback on C4 or JuiceTV (not a problem I've encountered with Alt TV so far!). I've tried to watch them but they are just so bloody awful - no melody, no talent, no joy, nothing reedeeming whatsoever. Here's one
Nickelback video
worth watching - the band getting rocks thrown at them at a gig in Portugal, so they walk off after two songs. Boo hoo.
ADDED: FFD Chart Watch
Been a while since I checked on this, and lookee, last week Fat Freddy's Drop were #3, this week, they return to #1! Congrats all round, on this 3Xplatinum-selling album.
Mu from Fat Freddy's Drop is currently in Seattle, as a guest lecturer at the Red Bull DJ Academy (Toby Laing from FFD tagged along too) - see Mu's workshop on video
here
.
Plus, reading for extra credit - notes on Mu's coffee-making skills
here
... "Mu commented, there isn't a DJ or music maker in Wellington who hasn't been a barista at some point in their career."
random downloads... mashups...

Sharon Jones and the Dap Kings live in studio, on
Minnesota Public Radio
(scroll down)
via Boingboing... "Me and This Army" is a collection of 16
Radiohead
tracks remixed with snippets of artists such as MF Doom, Jurassic 5, De La Soul, and more. It's as if the white label gods planted sensors inside my brain; they heard my innermost mashup prayers, and answered them here. Now all it needs is some remixed
Stanley Donwood
cover art...
Link
to info, tracklisting, and torrent.
and Q Unit: Queen vs 50 Cent. Bleh. (tip of the hat to
Richard
)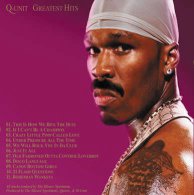 "What happens when you mix Queen and 50 Cent together? You get Q-Unit. Oh geez. This is going to rile half of my friends, and make others go off the rail. Go
here
to download the album, and get high quality cover art (of above) also."