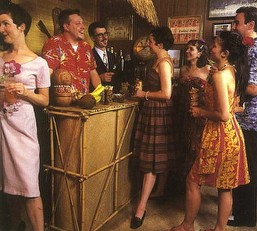 Every home should have one
"In 1999,
Atomic Magazine
ran a great tongue-in-cheek guide to building your own tiki bar (I used to have one in my old apartment in Toronto - every household is improved by tiki bars). Here's the scanned pages from the article.
Link
(
via Negatendo
, Boingboing)
I visited a tiki bar in San Francisco, in the Fairmont Hotel (where the inaugural meeting of the UN was held in 1948, and the marbelled lobby stairway was in the movie Gone With The Wind). It's called the
Tonga Room
, and it has a rectangular pool in the middle of the room with a boat on it, which floats out into the middle of the pool nightly. There's a band set up on the boat, playing. And every half hour, thunder and lightning starts up, and it starts raining on the pool. Great cocktails too.